Disclosure: this post may contain affiliate links, which means I may make a commission if you decide to make a purchase through one of my links, at no cost to you.
This Cranberry Moscow Mule recipe has a spicy kick that makes it a perfect cocktail for any holiday gathering.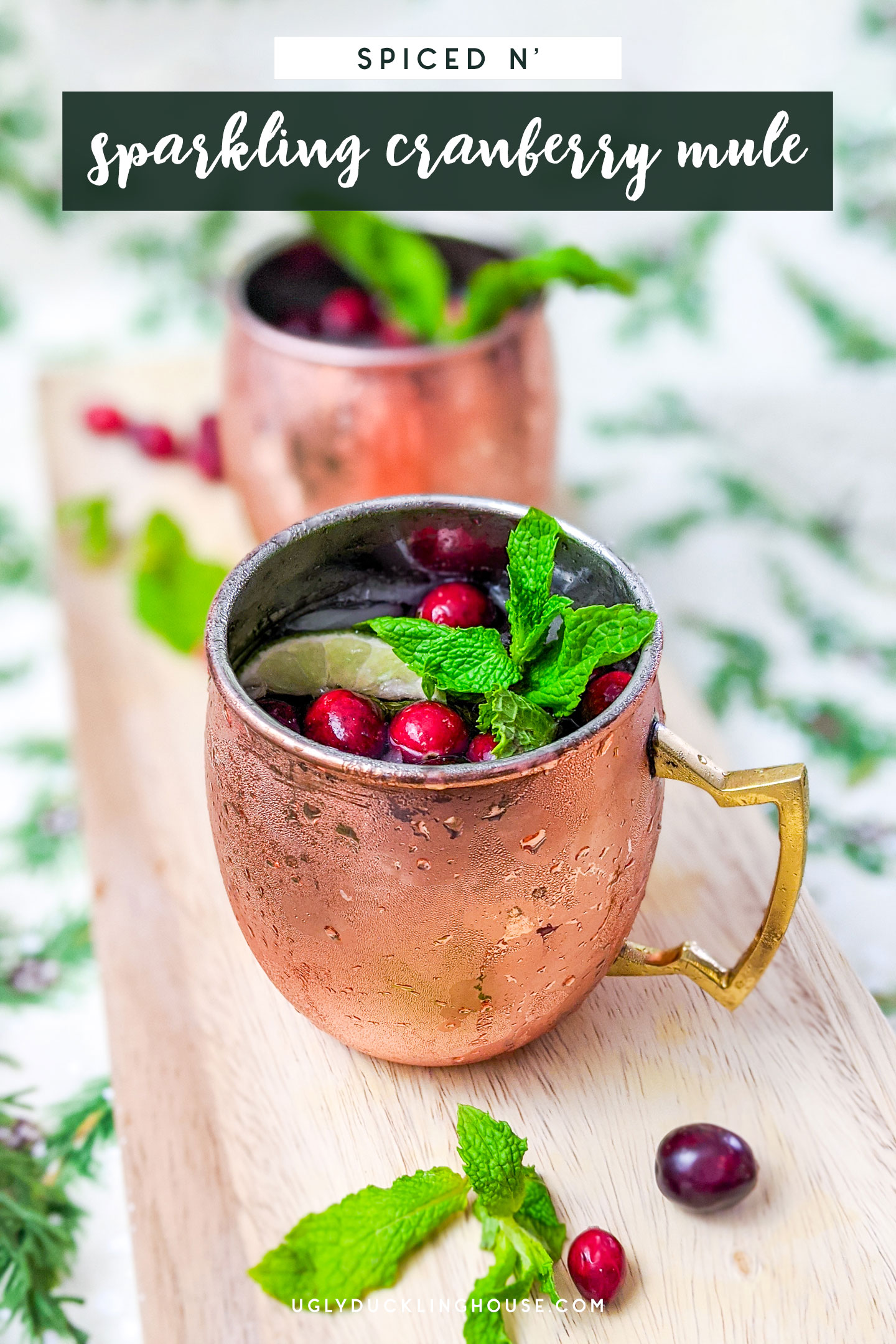 Happy holidays, friends! It seemed only right that, as part of my 25 DIYs of Christmas series, we could indulge in a festive cocktail together. After all the decor ideas and stuffing my face with cookies and heading out of town to visit family, I'm ready to celebrate the holiday season and count down to the new year… and that calls for champagne! If you're looking for new holiday cocktail ideas or the perfect party drink, this will be a great addition to the ones you try!
Originally, I'd planned on sharing this cranberry cocktail as a way to cap off all of the other DIYs I've been posting this month. It was supposed to be the very last post of my series (it seems fitting to celebrate all this holiday spirit with a cocktail, right? Ba-dum-tss). Buuuut… you know me. I kind of go at my own pace (which is framing things optimistically vs. "I'm chronically late" 😉). The original order of posts had all my DIYs done before Christmas, but when we went out of town to visit K's parents last week for the holidays, we had no internet. I didn't plan well enough for that, so it resulted in no posts! (Remember how K's parents moved from south Georgia, where Ruby was parked originally, up to Tennessee? They built a cute little tiny house in a wooded area, and that's where we spent most of our time.)
So, now that I'm home again, I'm back to editing my other Christmas-related posts to try to get them up before we ring in 2020. Since this yummy cocktail recipe is ready to share, I'm changing up the order. Consider it a classic cocktail, but with a tangy festive twist of fresh herbs, champagne, and cranberries. Maybe if you drink this while reading my other posts coming up, they'll be funnier. 🙃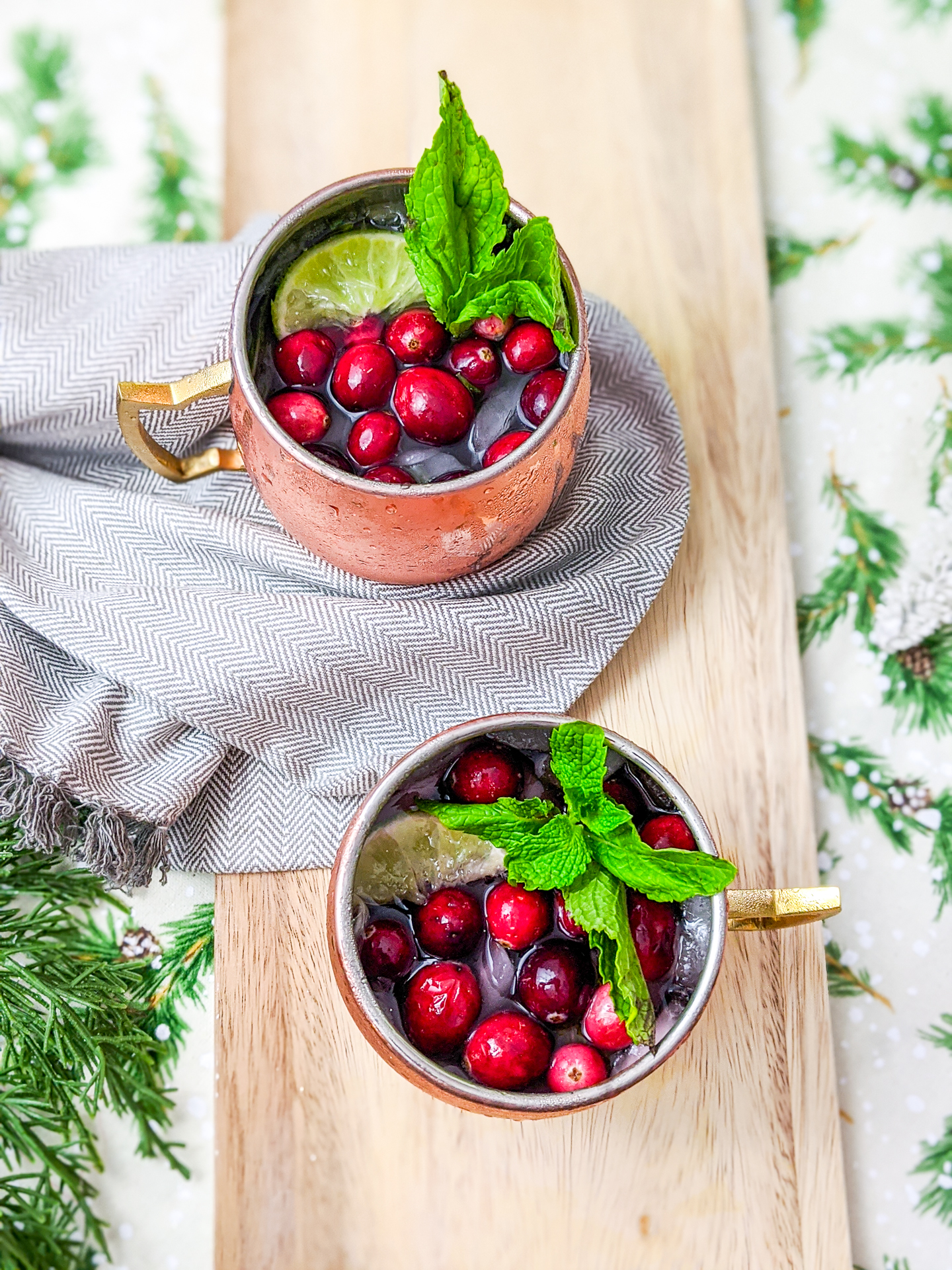 A Few Things to Know about Moscow Mule Recipes
The Christmas Cranberry Mule, aka "Yule Mule"
The traditional Moscow Mule is a favorite cocktail of mine. I especially love that they can be so easily customized with seasonal flavors (like this Grapefruit Moscow Mule). The holidays are the perfect time of year to make a "yule mule" — a Christmas version made by adding extra bubbly and cranberry juice or syrup. There's a tiny hint of mint in this recipe because you mix the mint against the ice before pouring (it's not really a "muddling" which you would do before adding ice, but more of a rough mix to release just a hint of flavor when the leaves start to break down a bit).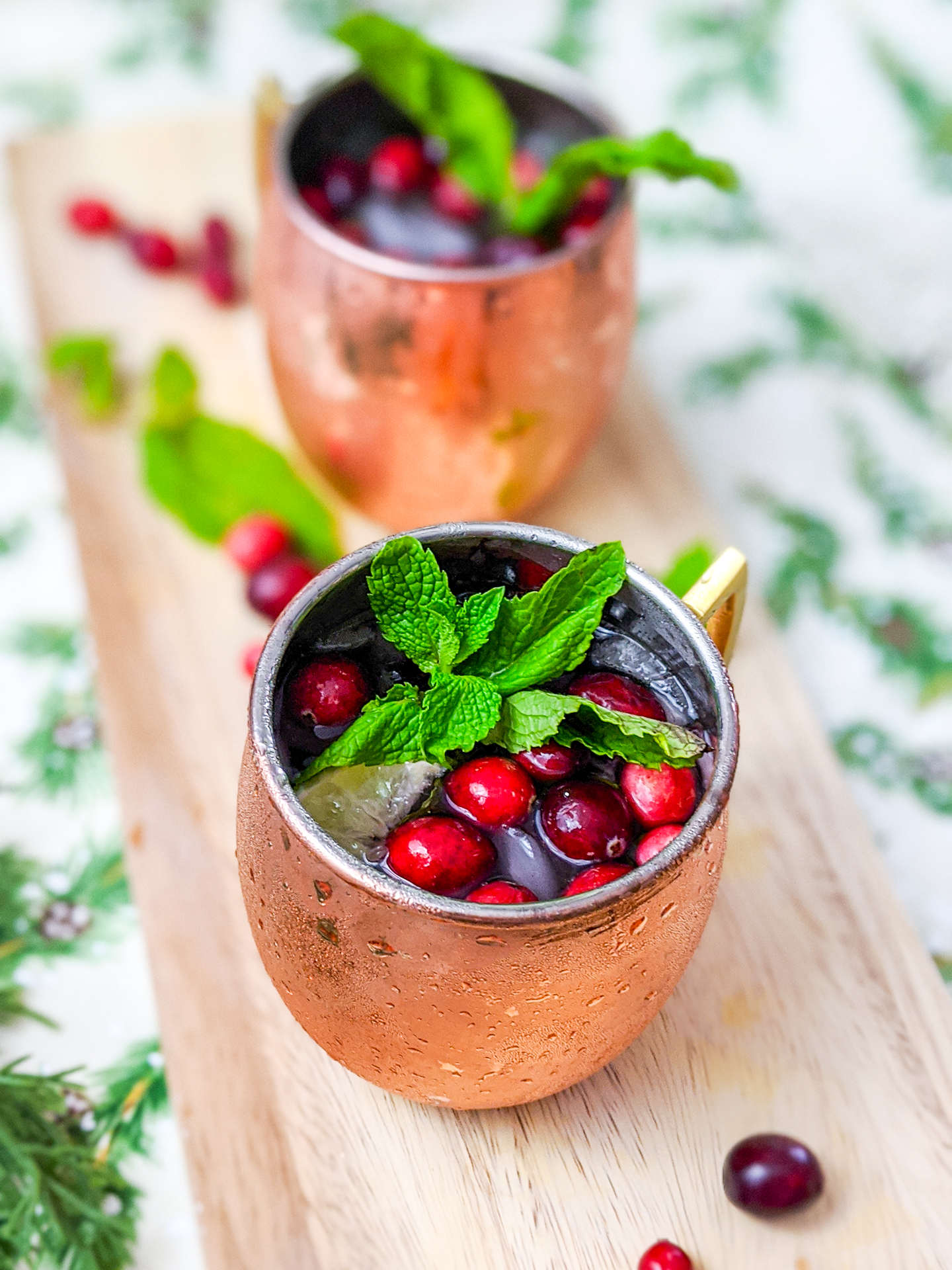 The Copper Mule Mug
For the coldest drink possible, serve in copper mugs. It's more than just a great way to make the whole thing look snazzy; a copper cup is actually an excellent thermal conductor! It makes the drink stay cold sip after sip (I love a little science with my holidays, what can I say?).
Ginger beer vs. ginger ale: what's the difference?
if you've never made a Moscow Mule before, note that this recipe uses ginger beer rather than ginger ale. The difference is that the ginger beer provides extra bite; ginger ale can do in a pinch, but simply can't match the spicier finish. Where I live, it's a lot easier to find ginger beer in a liquor/package store than the grocery store. It's becoming much more common, though.
Two versions, one cocktail
I made this recipe two ways: one version that uses 100% cranberry juice, which is sweeter; and another that uses some spiced cranberry simple syrup sent to me by my friends at Sagamore Spirit. They were an Instagram sponsor of mine earlier this year and sent me a surprise gift for the holidays. It's delicious!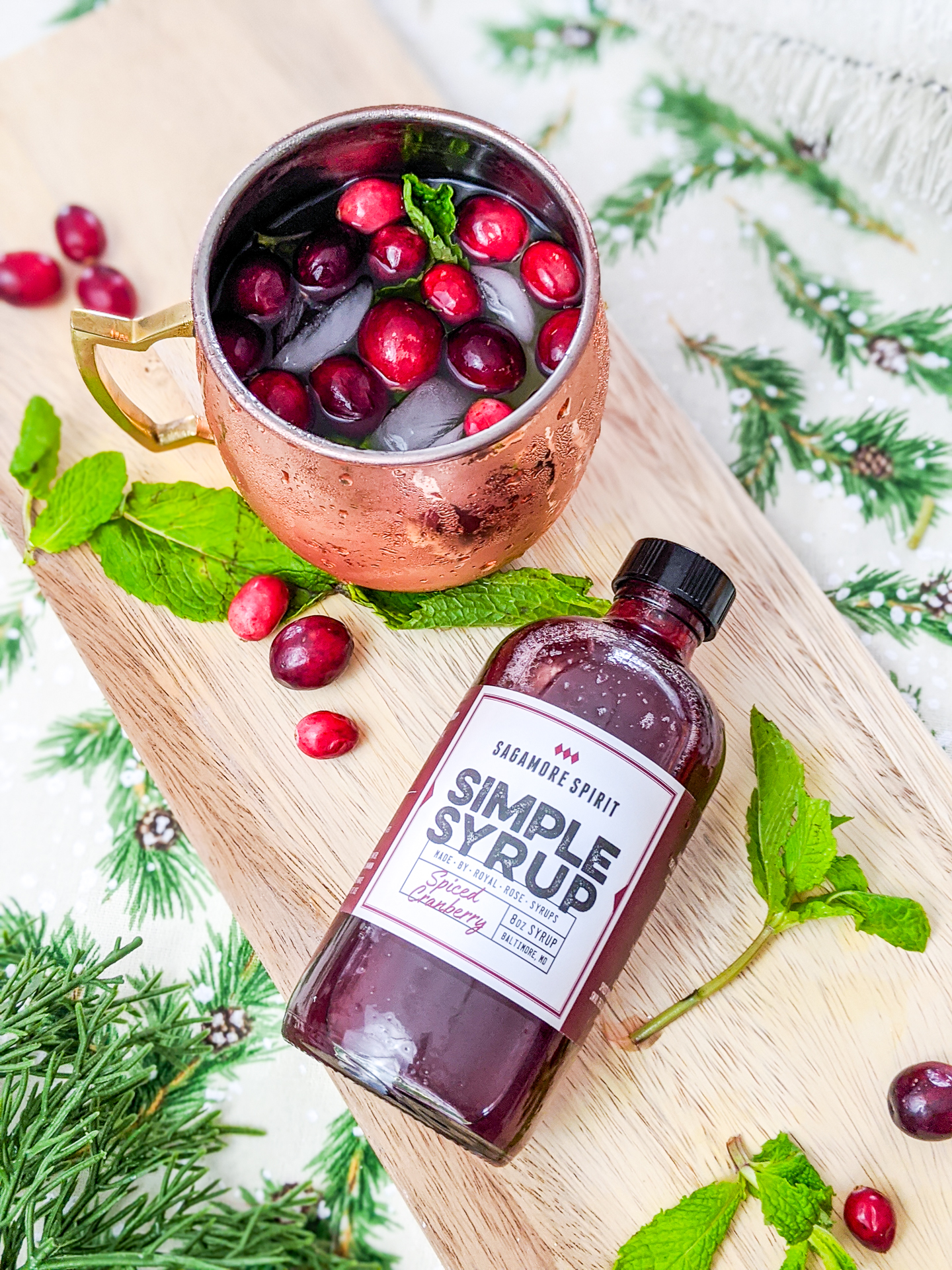 On the day of photographing this recipe, I had my Mom come over. Since she's now retired, it was kind of fun to throw out a quick message like "hey Mom, I'm mixing up some holiday drinks for the blog on Tuesday, so if you want to do some 'taste testing' with me, see you around noon."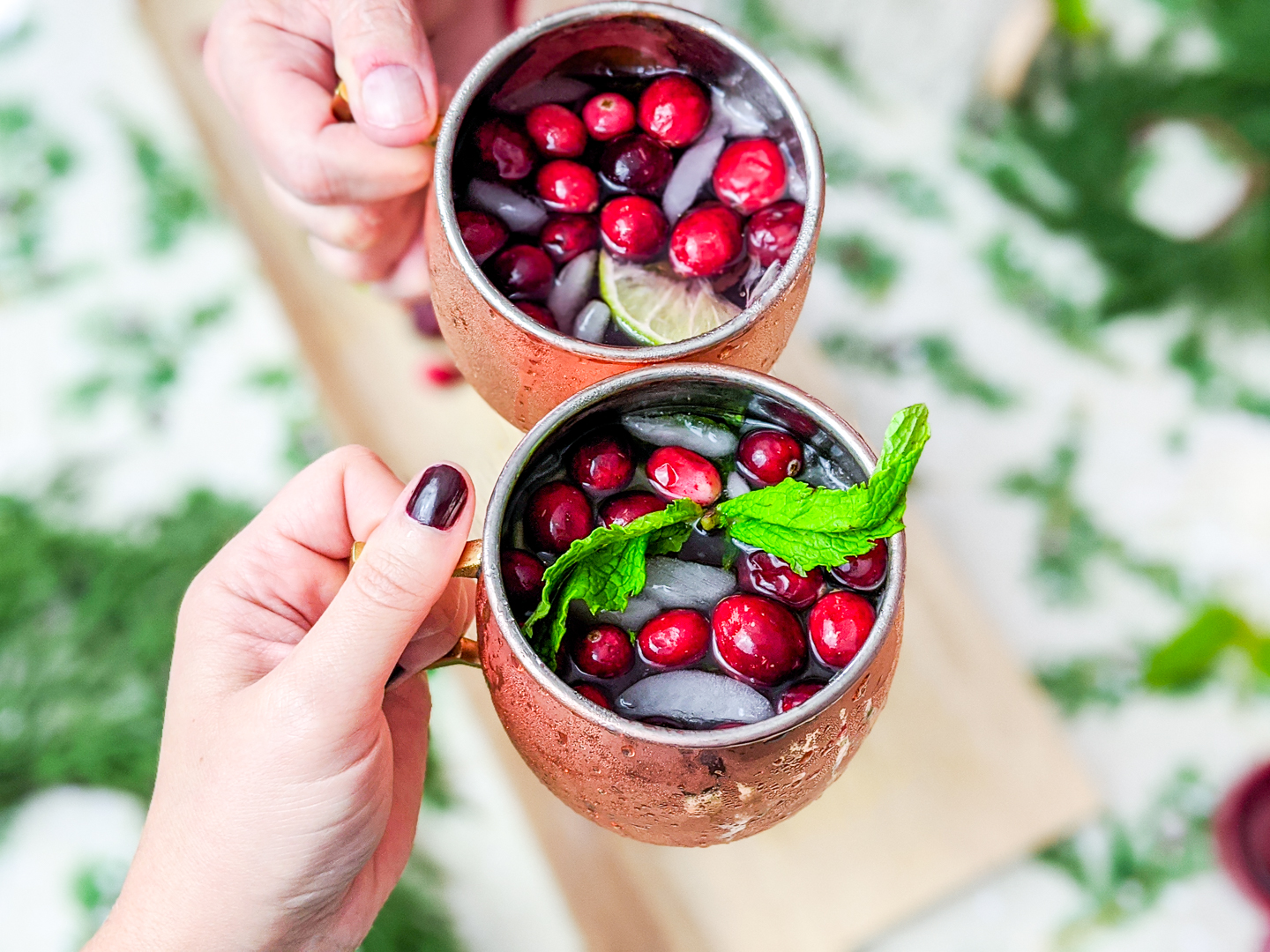 I had her step in as a hand model when I needed an extra hands to film the recipe. We had a few outtakes — one of which I kept at the very beginning of the video. Mom somehow interpreted "place the ice in the glass" as "throw the ice" — which, in fairness, makes the video more entertaining 😂. She was also gentler with the mint and ice on-camera than I was when mixing. So if you're rougher with your mint and want more mint, go for it.
Print
Sparkling Cranberry Mule
This bubbly holiday mule has a hint of cranberry, spice, and mint, making it an excellent option for holiday parties and other festive winter gatherings.
Author:
Prep Time:

5 minutes

Total Time:

5 minutes

Yield:

1

cocktail

1

x
Category:

drinks
2 oz

. vodka

3

–

4

oz. ginger beer

1/2 oz

. spiced cranberry simple syrup or

1.5

–

2

oz. 100% cranberry juice
fresh lime juice from 1/2 lime (cut up other half into wedges for garnish)
dry champagne (or prosecco) for topping

2

–

3

mint leaves, more for garnish

8

–

10

fresh cranberries
ice
Instructions
Mix mint leaves against ice in copper mug to release a little minty-ness (not quite "muddling" because I don't have a muddler, but it releases just a hint of the flavor).
Add vodka, ginger beer, spiced cranberry syrup juice, lime juice, and top with champagne.
Stir and add cranberries and lime wedge or mint as garnish (especially the cranberry garnish for the "look").
Notes
The spiced cranberry simple syrup adds a hint of sweetness compared to the addition of cranberry juice, but I prefer it because of the spicier flavor (it's up to you). You can also simmer unsweetened cranberry juice on the stove and add additional spices of allspice, star anise, cloves, cinnamon, etc. to make a simple syrup (I may do this in the future if I'm throwing a holiday party because the more I cut back on sugar in my diet, the less I miss the added sweetness of juice).
The more cocktails you drink, the easier this is to mix mint against ice. 😂
If mint isn't your think, consider using rosemary sprigs instead!
To make this drink virgin as a mocktail, substitute lime soda instead of the vodka & champs.
Keywords: cranberry, cocktail, vodka
I hope those of you who have been following along have had a wonderful holiday season so far, and have enjoyed this series! I'll be enjoying a few days off after it's done to start planning for the new year, but expect to see a few more posts coming out before January 1st.
P.S. If you enjoyed this series (and I worked very hard on it, so thank you for tuning in!), please do me a huge favor: pin your favorite projects, like the videos in this series where you see them (I meant to get them on YouTube but haven't had time to do all the voiceover, but several of them are on Instagram as a series on IGTV!), and share links to my blog posts with your friends. Starting in January, we'll be back to organizing, home repair, and setting goals for the next 365!
Don't forget to pin this!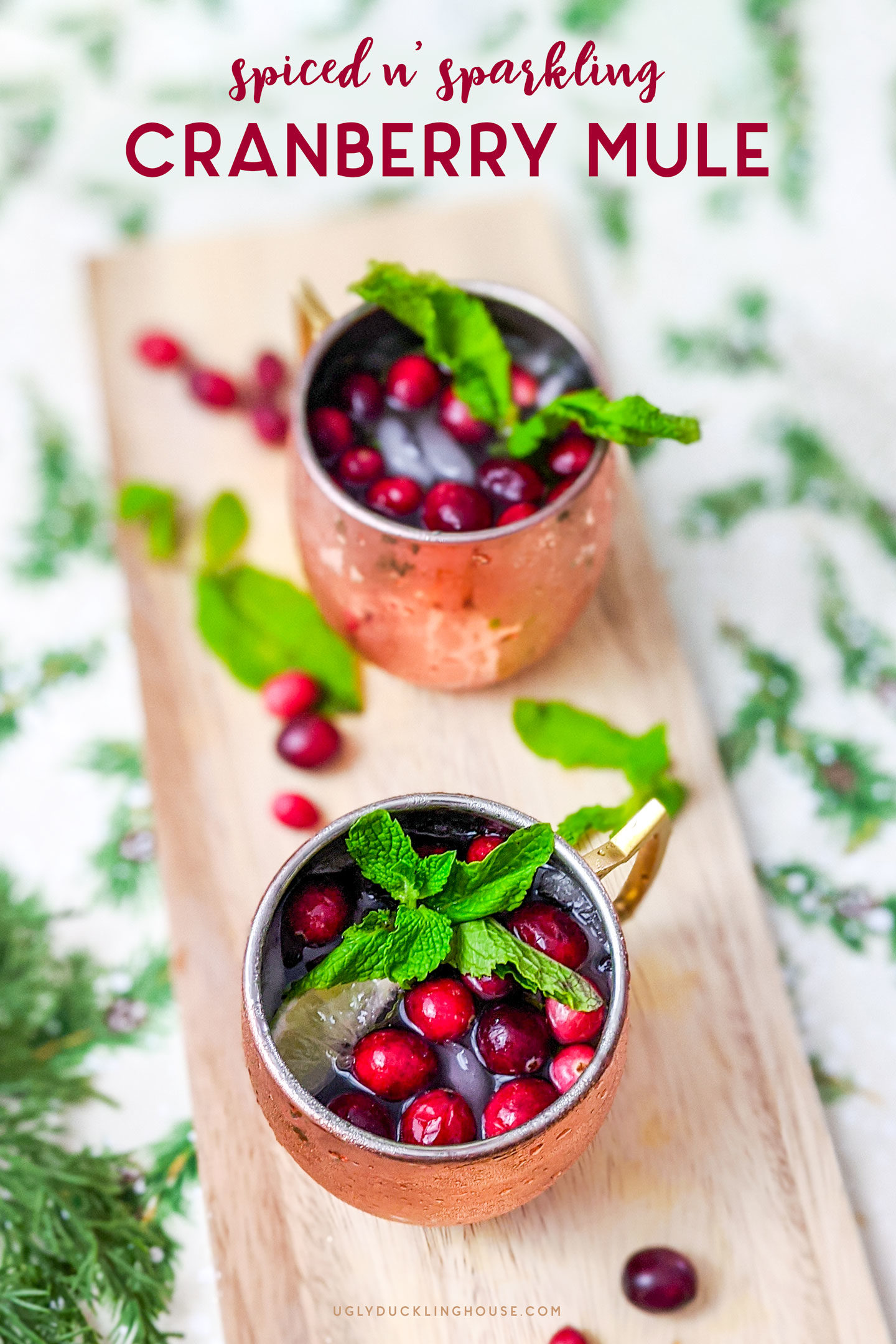 This project is part of a series of DIY gifts, decor, and other fun inspiration that I'm calling my "25 DIYs of Christmas"! Check out the list below to see each post (step by step tutorials, recipes, videos, free patterns, and woodworking plans available for each (where applicable). Lots of these ideas have multiple versions to show you the possibilities of each DIY. Even better, you can subscribe to make sure you don't miss a single post!