Disclosure: this post may contain affiliate links, which means I may make a commission if you decide to make a purchase through one of my links, at no cost to you.
Hey friends — got another #25DIYsofChristmas project for you today: these boho-inspired wood and leather tassel ornaments!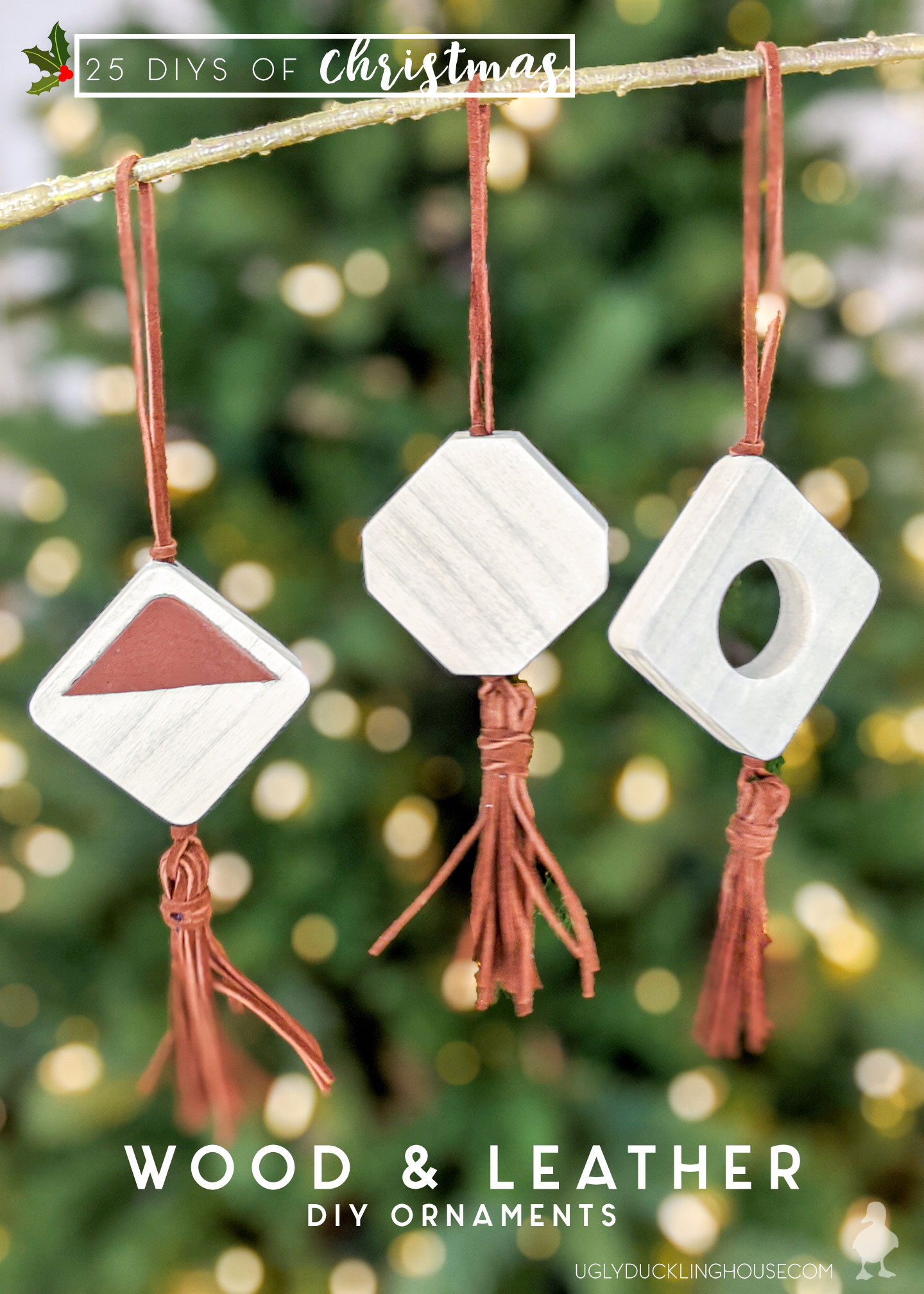 If you are new here (hi!) as part of the Mixed Media Challenge or didn't catch my last two posts (here and here), I'm doing a HUGE push this year to make 25 DIYs for the holidays from decor to gifts to recipes. As part of this challenge to myself and the mixed media challenge, I'm trying to work in a few materials I haven't used before into these projects (aluminum! acrylic! clay! concrete!). Today, I've decided to add LEATHER.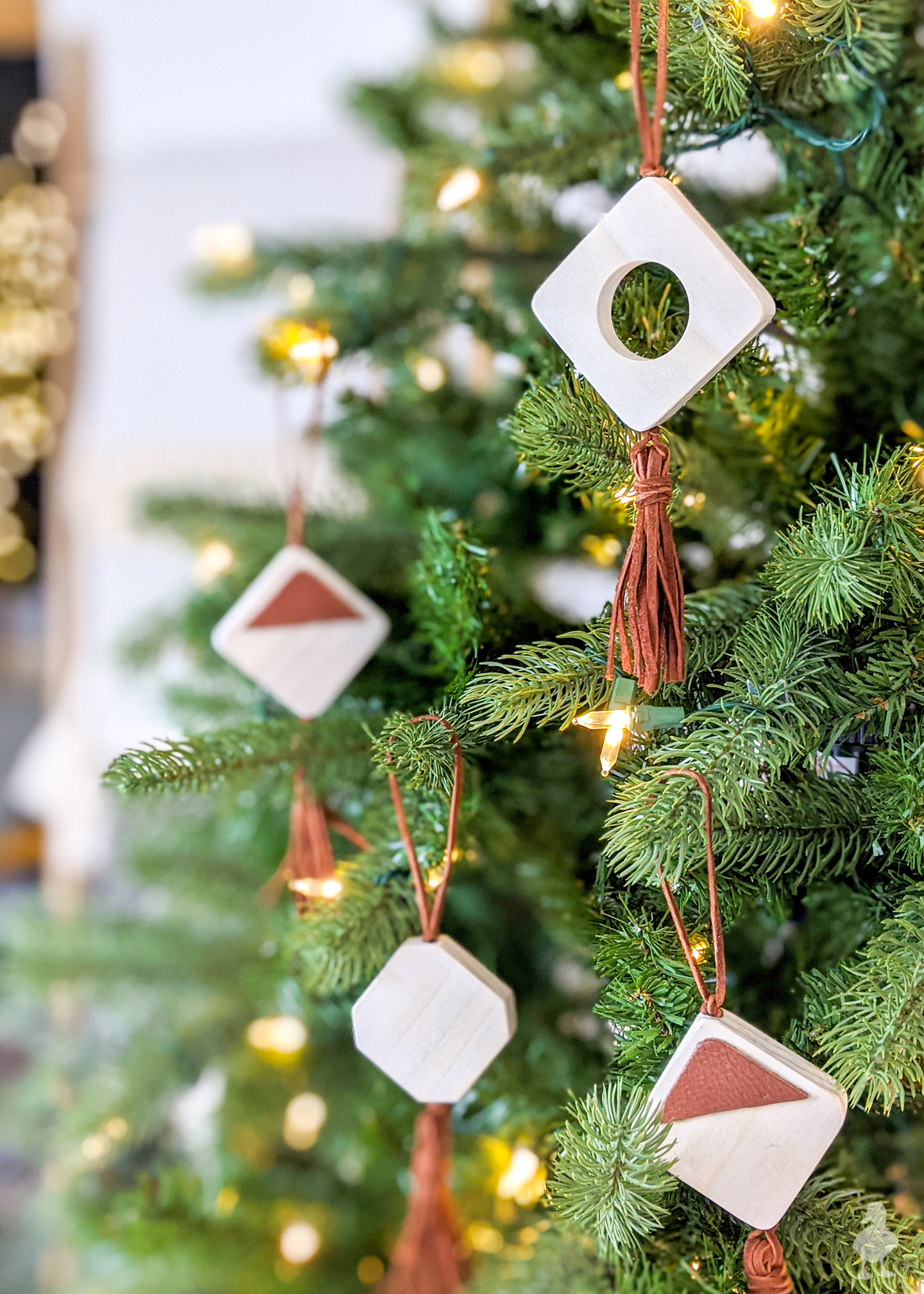 I spotted this great camel-colored leather at the craft store as I was grabbing some ribbon for my tree, and I was instantly inspired to make ornaments with it. I thought pale wood and leather tassels might make a good combo, but I figured out the shapes for everything else as I went:
How to Make these Boho Wood and Leather Tassel Ornaments
Time needed: 1 day.
These easy wood and leather DIY ornaments make a great addition to neutral or boho-inspired Christmas tree decor.
Cut small squares of wood

I had some scrap 1/2″ thick poplar, so I cut 2-2 1/2″ squares for this project. You can make as many ask you like, but I made 6 squares total.

Mark ends and centers

Using a random container I had at the house, I used the rounded corners and straight edge as follows: 2 small squares with rounded corners; 2 small squares with 1cm cut off each corner (octagonal shape); 2 larger squares with rounded corners and centers marked. To mark the centers, I just ran a pencil mark along the straight edge from corner to corner, so it crossed in the middle and marked my center.

Sand corners and surfaces

Using the disc sander and orbital sander, I rounded off the corners and sanded down everything to prep for stain. I also drilled a hole in the middle of the 2 bigger ornaments using a 1-1/4″ Forstner bit.

Stain

I stained all pieces using Varathane White Wash stain.

Drill holes at the top and bottom

To make room for the leather strap and tassel, I drilled holes at the top and bottom of each ornament. Tip: start with a small drill bit to center the hole and gradually increase the bit size until it's large enough; trying to drill with a single large bit might slip more.

How to make a leather tassel

This step is maybe more complex than the others, but it's actually very easy! To make a tassel, I wrapped a leather cord around my hand 7 times and then slipped a longer piece (just a few inches) through the top. then, I cut the loop on the bottom and wrapped and glued another cord around the top loop (just a few inches). I slipped the end of the cord underneath to keep it secure, but if it ever comes loose, I'll add a little bit of glue. With the tassel complete, I inserted the end into the bottom hole of each ornament and glued them into place. Tip: wetting the cord helps to get the bends out from the packaging, and tying another knot at the top (after the tassel is done) makes it easier to glue.

Create a top loop

I knotted more leather cord for the top holes on each ornament to make a loop for the ornament to hang on the tree. A little dab of superglue holds it in place.

Cut and glue leather

For the smaller rounded ornaments, I cut out triangular shapes in a piece of leather and glued them to both sides of the ornaments. Done!
Since making the carved ornament set last year, I am glad this has become a DIY tradition (I suppose 2 years in a row doesn't exactly count, but I intend to do it again, so we'll go ahead and call it that!). I have one more ornament idea for the year that I'd still like to do, but it's more complex and I don't know if I'll have time with all of the other projects going on! There's definitely more of 25 DIYs of Christmas yet to come, but if you're looking for more ideas RIGHT NOW, be sure to check out the other bloggers who are participating in this mixed media challenge below!
Mixed Media DIY Challenge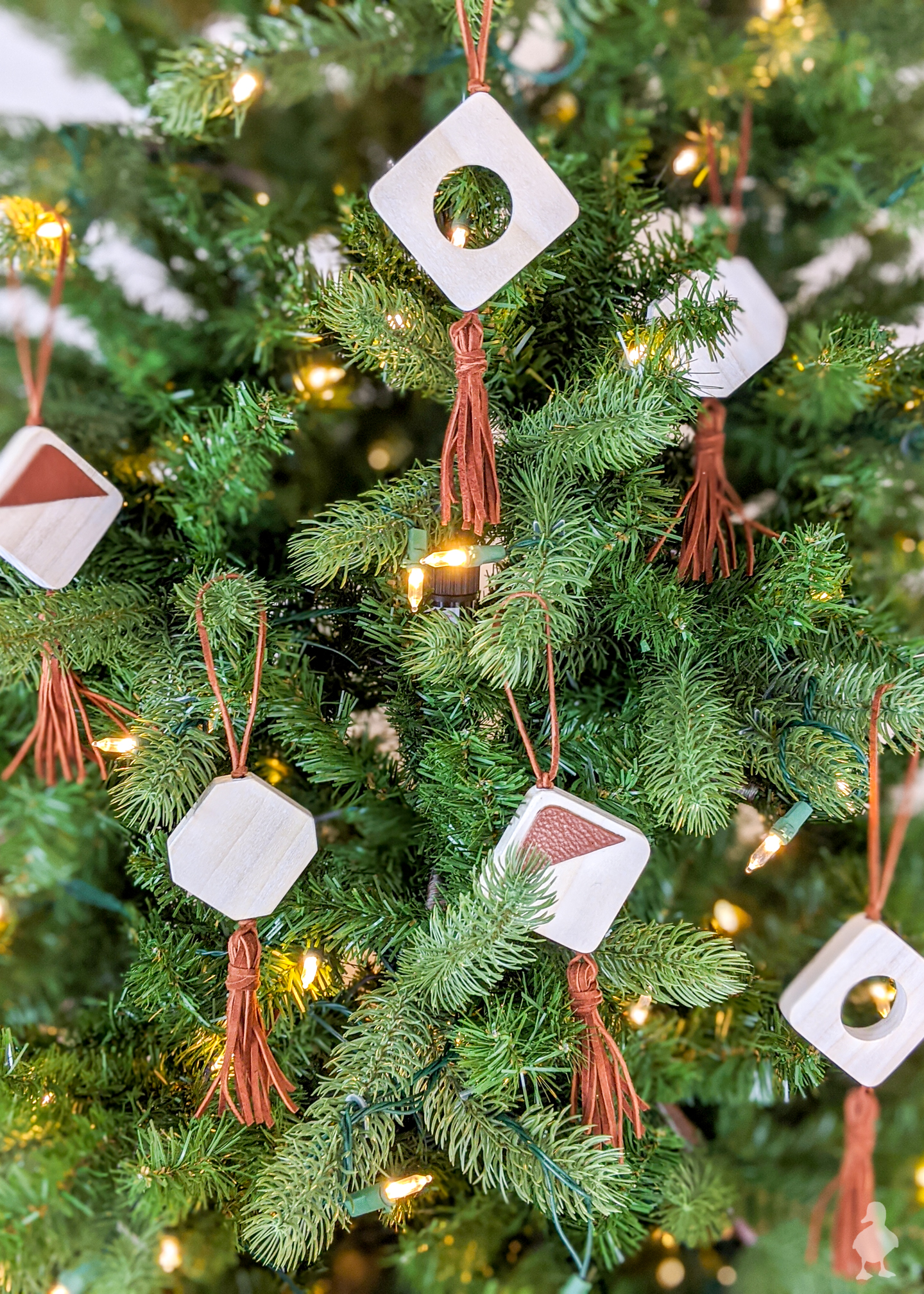 This project is part of a series of DIY gifts, decor, and other fun inspiration that I'm calling my "25 DIYs of Christmas"! Check out the list below to see each post (step by step tutorials, recipes, videos, free patterns, and woodworking plans available for each (where applicable). Lots of these ideas have multiple versions to show you the possibilities of each DIY. Even better, you can subscribe to make sure you don't miss a single post!